Since 2010 we have given the very best care to your family's pets, and now, we can provide even better service than before in our newly renovated hospital! We had outgrown our old space, and it was time for a change so that we could add more rooms, more equipment, and more treatments. Ready for some before-and-after shots? Here's a closer look at our renovations!
The Lobby and Patient Rooms
As some of you may remember, our lobby was a little small. With the new renovation, we were able to add much more space for you and your pet to spread out. We also added a waiting room bathroom to make waiting for your appointment a bit comfier, and more convenient. Not that you will be spending much time in the lobby—our renovation also added more patient rooms.
With several additional rooms, we are able to get your pet in for an exam sooner. Our new, larger rooms can accommodate large pets (or their extended human families). We added more space to the smaller rooms with our new folding exam tables, which are useful for pets that don't like or don't need the table.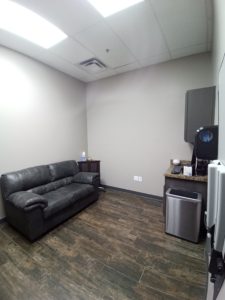 We also added a special comfort room, which gives families saying goodbye to their pets the private space they need. It has a sofa for final cuddles and a separate exit so the grieving family can stay as long as they need, without feeling rushed. 
A separate isolation room with its own entrance and exit rounds out the new patient rooms. This room allows us to ensure that there are no exposures between patients. It is attached to our isolation ward, so pets can be hospitalized and receive treatment without any risk to other patients. This room also allows us to see more patients, as we are able to close it and sanitize it with less interruption to the schedule. 
Physical Therapy and Ultrasound Room
The physical therapy room houses our balancing balls and strength-building equipment, as well as the equipment for our cold laser, electric stimulation and ultrasound therapies. This room is spacious enough to see two patients at a time, enabling us to provide more service to the pets who need it.
In our new, top-of-the-line physical therapy room we have added a water treadmill. Hydrotherapy is a wonderful way to provide treatment for animals with many different needs. It can help them stretch and build muscle after orthopedic surgeries, and can help pets with chronic pain or pets who are overweight get some gentle exercise.
With the addition of an ultrasound room, we are now able to perform radiographs and ultrasounds at the same time. This addition will help us decrease wait times and provide quicker diagnostics in urgent situations. 
New Equipment
Finally, we have added more equipment to our hospital. We have taken lots of care to select the best of the best. Several additional computer stations, oxygen drops, and anesthesia stations means we can provide more immediate care to our patients.
A second surgical dental table allows two doctors to work at the same time. This gives us more flexibility in scheduling your pet's very important dental procedures or treatments. We have also increased the size of our sterilization area, ensuring that the correct equipment is ready when we need it. 
A Better Hospital for the Best Veterinary Care in Gilbert, Arizona
With our new equipment, expansions, and renovations we are able to provide the best care in the area. Our doctors and vet techs have always given high quality care—now we can offer you that same dedicated care in a better space. If you have any questions about our new services or just want to check out our new space, give us a call to schedule a wellness exam today.
Images used under creative commons license – commercial use (8/5/22).