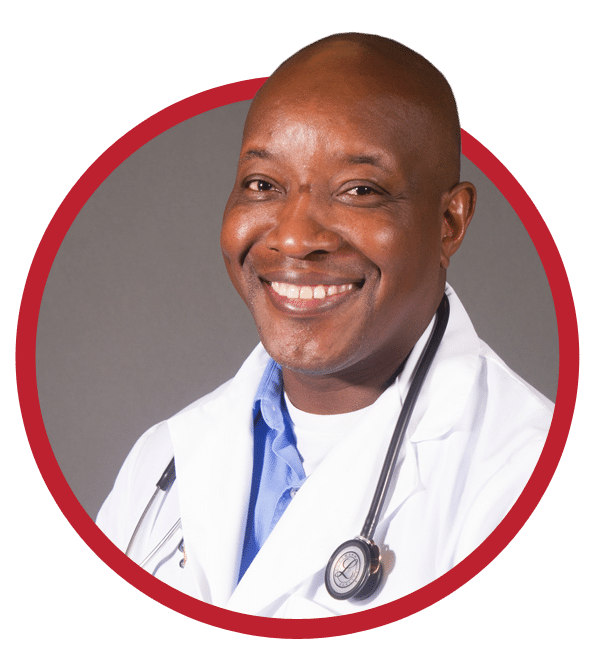 Dr. Alan Mafara
Veterinarian, Owner
Dr. Alan Mafara came from Zimbabwe in 2003 after having graduated in 1993 from the University of Zimbabwe. He came to AZ to be with his wife, Sharon, who he met in an exchange program between the Michigan State University College of Veterinary Medicine and the University of Zimbabwe's veterinary school.
Since moving to Arizona, Dr. Mafara has become passionate about preventative care, orthopedic surgery and veterinary dentistry in primarily dogs and cats. He spends time with his mentors at Arizona Veterinary Dental Specialists in order to improve his dentistry skills.
Dr. Mafara and Sharon share their home with their son, daughter, and a boxer mix called Girlfriend. Their after hours activities are usually centered on the kids who like chasing hot air balloons and attending swimming lessons. Dr. Mafara also enjoys the local sports teams and catching a Cardinals, Diamondbacks or Suns game whenever he can. He hasn't quite yet become a Coyotes fan since he says he still has to learn how hockey works! For relaxation, however, he finds a round of golf is a welcome bonus.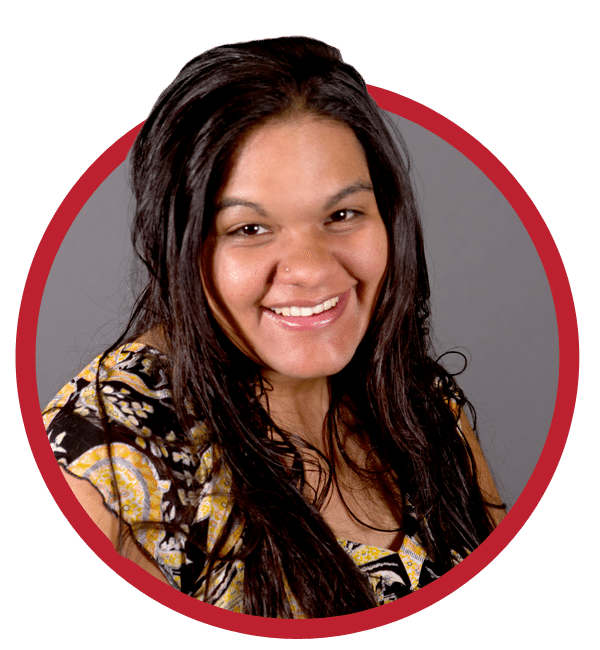 Gina Gomez-Vidal
Hospital Manager, CVT
Gina has had a love for animals for as long as she can remember. She knew that a career with animals was her life's calling since she was 4 years old. She actually started working in the veterinary field when she was 12 years old by volunteering at a local clinic in her neighborhood every summer. This lead to going every day after school once she was in high school, which finally lead to a job when she was 16 years old.
She joined the East Valley Animal team in November of 2009 and became a CVT in 2010. She was a part-time technician until March of 2014 when she decided to become the Hospital Manager and be a committed full-time leader. Gina is currently working on obtaining her CVPM.
When you talk to Gina, you can easily tell how much she loves working at East Valley Animal Hospital. "It's great being a part of a group of people that is so close," she says. "We're like a family." Gina also acknowledges how much she and every member on the staff truly cares for each patient. "This clinic treats the patients as if they are their own," she explains, "and we've built some amazing relationships with our clients because of it."
A native of Tucson, Gina currently lives in Mesa and enjoys spending time with her wife, two boys, their Bengal kitty, three Red Eared Sliders, and four dogs. Photography, reading, hiking, and running are some of her favorite things to do on her downtime. She was a surrogate in 2016.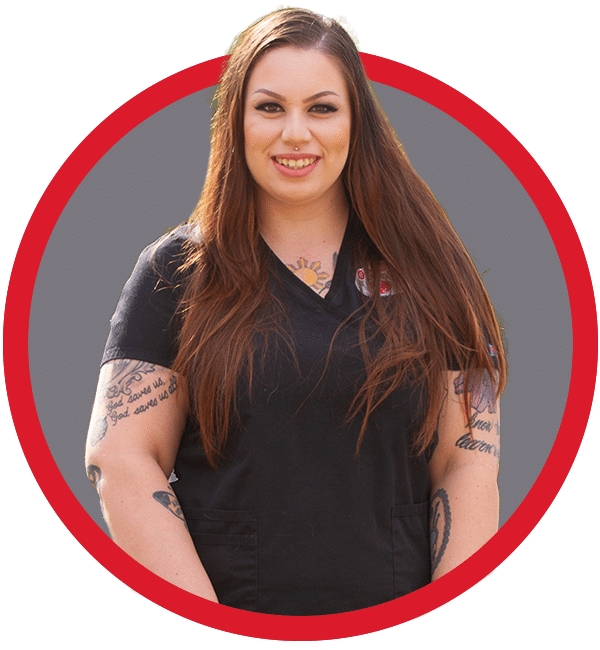 Rachelle Rollins
Lead Customer Service Representative
Rachelle started at EVAH in December 2012 as a veterinary assistant and receptionist where her duties include cleaning, performing diagnostics and establishing relationships with clients. She enjoys playing the "motherly" role when taking care of sick patients and watching them get well warms her heart. "I've always had a deep connection with animals, especially dogs," Rachelle says. "Seeing my miniature pinscher diagnosed with diabetes gave me the push to pursue a career in the veterinary field."
Rachelle has one daughter, a dog named Yukon and a rat named Atticus. Her hobbies include makeup application, going to concerts, "Sunday Funday" with her family and going to the coffee shop with her best friend. Rachelle appreciates the great relationships she has with her co-workers and considers them to be family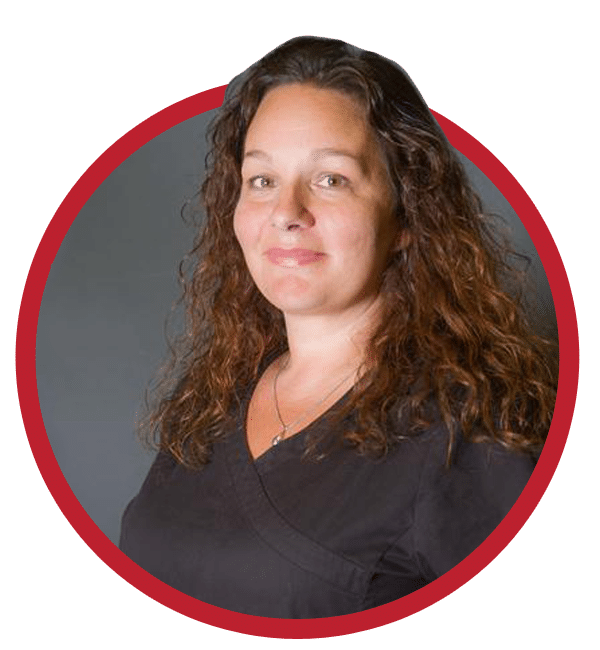 Angela Dragos
Client Service Representative
Originally from Washington State, Angela began working at EVAH in July of 2013. Providing great customer service by making clients and pets feel safe and welcomed is her #1 goal, an easy accomplishment with all that EVAH offers. Angela is also dedicated to building great relationships with clients and their pets to ensure they have all they need while they are here with us. With over 20 years as a bookkeeper before jumping into the veterinary field as a veterinary assistant, Angela eventually found her life's mission as a customer service representative and has been doing it ever since. Her passion for animals motivated her to start up a career in the veterinary field where she loves all of the interaction with the people and the patients, making it easy for her to say, "I actually enjoy coming to work each and every day."
In her free time, Angela can be found traveling to the water – whether it's an ocean, river or lake – and likes to stay busy whenever she can by going camping, riding horses or off roading.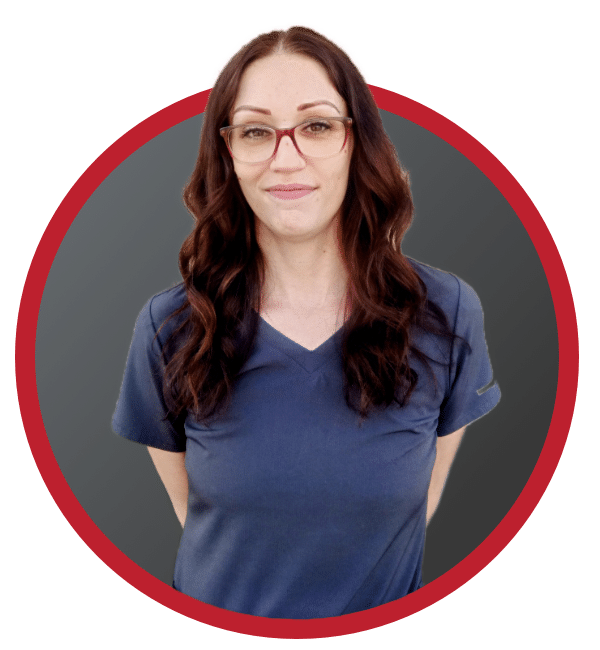 Riley Werhanowicz
Client Service Representative
Born and raised in Australia, Riley has lived in many places around the United States but has found her home here in Arizona. 
Riley's love for animals began at a young age when she started to volunteer at local shelters. She continued her passion by training to be a veterinarian technician, which she did for a number of years before transitioning to her current position as client service representative. She is truly dedicated to helping animals and their owners and is always willing to go the extra mile to ensure a positive experience for both. 
When Riley isn't at work she enjoys spending time with her beloved Basset Hound Tripp. Together, they love exploring the outdoors, going on walks and camping. Riley also indulges her artistic side with a variety of different creative activities such as painting, glass engraving and cosplay design.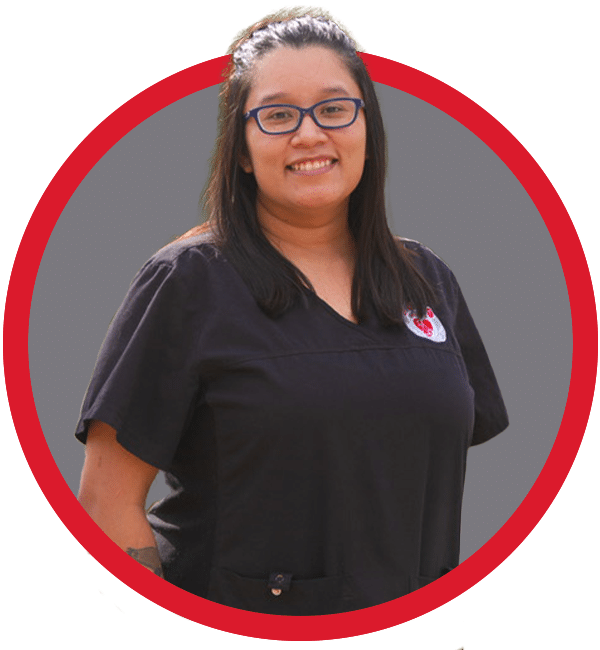 Donna Jones
Lead Veterinary Technician
Donna traveled from California to Arizona in search of a new adventure shortly after graduating high school. Once in Arizona, being a short road trip away from snow and so close to mountains was reason enough to stay. Donna has always had a love for animals, but there was a time where she considered working as a 'human nurse.' One day, it just hit her that helping animals was IT for her! She started school to become a veterinary technician and graduated from Kaplan University in 2011 and the rest is history! She does plan on continuing her education and hopes to become a Certified Veterinary Technician. Her dream is to one day work at a wildlife park and get to interact with all the amazing tigers, lions, and bears!
When not at work, Donna loves to hang out with her coworkers–who are like family to her, take care of her animals, play video games, read comics and watch all the Marvel/DC movies, watch anime and be the designated taste tester for her husband, Steven, whenever he tries new recipes at home. He repays the favor when Donna tries new baking recipes. The first 2 pets they have are a blue pit that she adopted named Havoc and Talo her cat who moved with her from California. She found him as a stray kitten and he turned out to be the ideal road trip partner during her move. He sat in the front seat and napped, he only complained when the AC was not pointed directly at him! New additions, Harley and Igneel (Iggy for short) are their bearded dragons. Harley is a leatherback and Iggy is a Citrus. They are little hungry hippos that love exploring the house, sitting on top of your head and scaring Havoc and Talo.
Donna understands the unfortunate situation of when something unexpected happens to your fur-babies. Sometimes it is scary and frustrating and there are a lot of emotions. Having her own pets, Donna understands and has felt what some clients go through when something scary happens with their fur babies.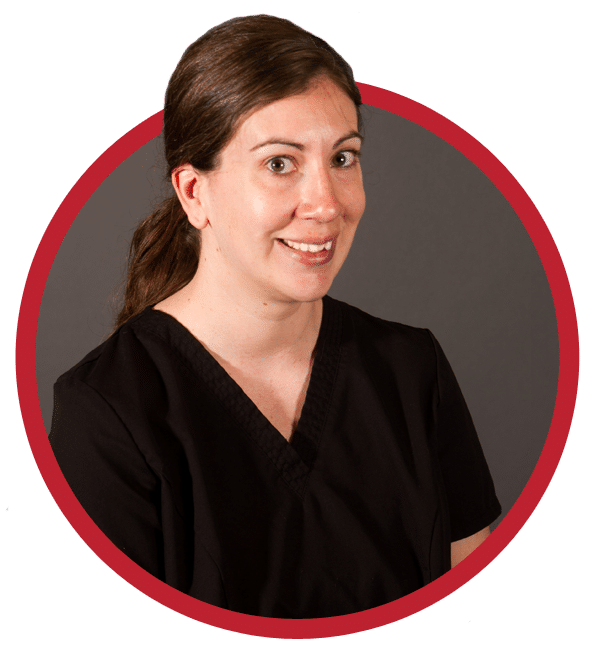 Rachel Carpenter
Lead Veterinary Technician
Rachel has been in the veterinary field for 15 years now, working with Dr. Mafara for a total of more than 13 of those years and Dr Connolly for six years. She shares her home with the most important man in her life, Steve the Cat, her 15 year old Manx. She does have one other man in her life, Blu, her 23 year old quarter horse, who lives at her mom's house with her horse Splash. Steve and Rachel are mostly homebodies. You'll usually find them there watching TV, movies, reading or playing video games. She also enjoys spending time with friends and family, but Steve usually stays home. She couldn't imagine having any other job or working with any other group of people. They all share a passion for keeping pets happy and healthy as if they were their own.
Josie Robarge
Veterinary Technician
Josie came here from Michigan when she was only a year old. She lived here until she was 12 years old, then moved to Illinois for 2 years, then moved to Las Vegas for another year before she moved back to Arizona. She grew up always traveling for her dad's work, she has been to 34 states and 4 other countries. She loves traveling and seeing the world which got her into photography. She also did karate for many years and has 2 black belts.
She has always had a love for animals and knew she wanted to work with them. She volunteered all through high school at Friends for Life Animal Rescue and attended EVIT. After graduation she attended Pima Medical Institute in the Veterinary Assistant and Veterinary Technician programs. She graduated with her Associates of Applied Animal science in 2018. She has 2 dogs and a loving husband at home. Zoey is a 5 year old and Zeus is 11 month old pittie. In her free time she loves to take long walks with her fur babies and hubby, playing at the park with them, taking photographs, exploring new places, or just chilling and watching movies together.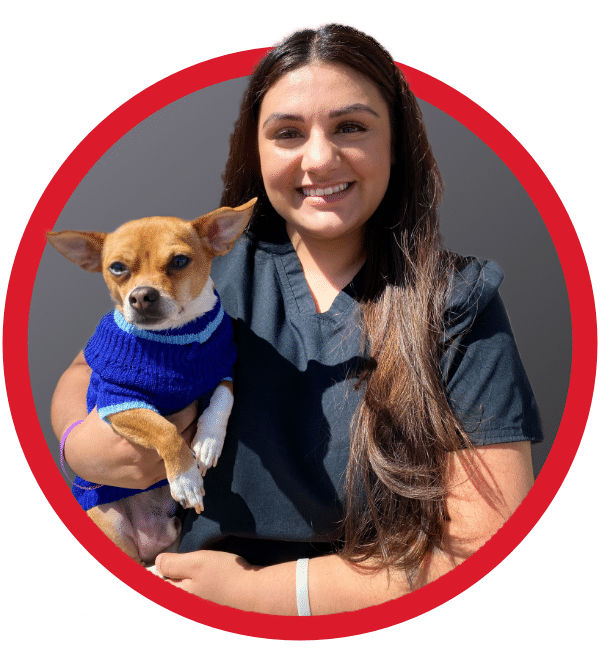 Bella Barraza
Physical Therapy Technician
Bella was born and raised in Arizona, moving several times throughout the valley as a child and finally landing in the Chandler area. She is an ASU graduate with a Bachelor's degree in Pre-veterinary Science and has continued her education at SCC for Equine Science. Bella is our physical therapy technician and loves working with each new patient during their recovery journey. She finds watching their progress and trust in her grow with each session very rewarding. It is always bittersweet when her patients "graduate" from their sessions, as each one holds a place in her heart. She is excited to build the program and help as many furry friends as possible. 
She has been an avid animal lover from a very young age, always having at least one pet in her home, and currently has quite the zoo! Bella has seven pets at home: two dogs (Stitch and Daisy), two cats (Luna and Shadow), and three rabbits (Rosie, Teddy, and AB). She has always been the type of person to greet your dog first or be found tucked away in the corner cuddling furry friends. While Bella has spent most of her life
surrounded by companion animals, she found a love of horses while volunteering and managing at an equine rescue in Gilbert for about 2.5 years. She one day hopes to own a small ranch with a few horses of her own.
In her free time, Bella enjoys spending time with her dog Stitch. The two love going for rides together and hitting up Starbucks for a coffee and pup cup! She also loves getting lost in the world of a good book, watching movies, and listening to music. Bella's favorite place to go is the Glendale drive-in. She's a huge movie buff and loves the old-timey feel of sitting at the drive-in with a car full of snacks and a cozy blanket.
Sarah Krause
Veterinary Assistant
Sarah moved to Arizona from Illinois when she was 13. She started off in the suburbs of Chicago and then later moved to the small rural town in Illinois and spent most of her time outdoors. She has always had a love for animals from a very young age. She grew up on 3 acres of land with 6 dogs and numerous siamese cats. When she moved to AZ she got a horse named Amira. She got into training horses and shadowed/worked with a horse trainer and trained her foal Amira. She has been working as a vet tech for 2 years now. She attended EVIT in the veterinary assisting program while in high school. After graduating, she started her schooling at a community college and is now currently attending there. She enjoys spending time with her 15 year old pittie Bel and her cat Rex. In her free time she loves to go on hikes, camping trips, and travel to new states and countries while spending time with friends and family.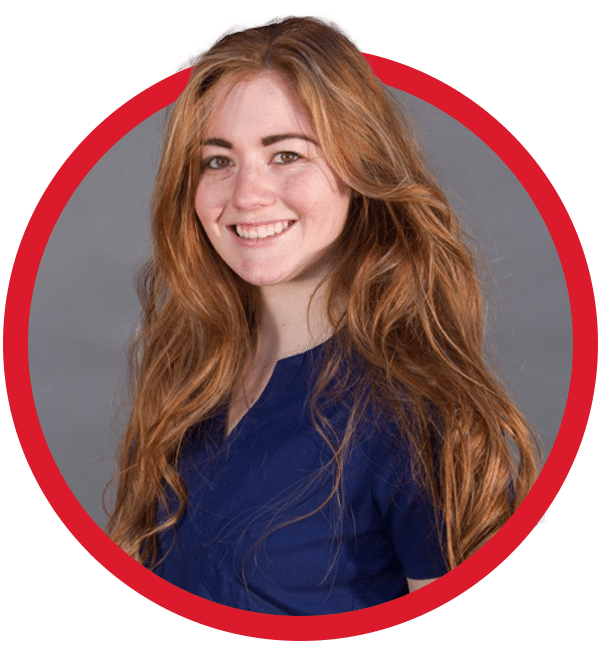 Audrey Barton
Veterinary Technician
Audrey began working for EVAH in May of 2011. As a nurse for pets, she does everything from running diagnostics to monitoring anesthesia. Throughout her career with EVAH, she is most proud of her personal and professional growth, going from assistant work to now taking on more responsibility. Audrey is especially proud of her skill at monitoring anesthesia and helping with surgeries, and she enjoys making the clients and patients as comfortable as possible and making every interaction a great experience for everyone.
After graduating from EVIT, Audrey worked in surgery specialty for over a year-and-a-half before transitioning to the EVAH team full time, where her passion for patient care shines. A native of Mesa, AZ, Audrey spends her free time loving on her own fur babies, as well as long boarding, playing video games, reading, hiking and listening to live music.