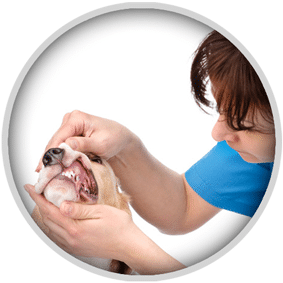 Teeth cleaning for dogs is an important part of your pet's health and well being. But for some pets, having any human, including their owners, take a close look at their teeth and mouth can be scary. When scared, pets can react in ways that are not characteristic to their normal behavior. That's why it's best to leave dental care to the professionals, like our caring and dedicated team.
At East Valley Animal Hospital, we offer a variety of teeth-related services. Just looking at your pet's teeth doesn't always show what might be happening below the gum line. To make sure nothing is hiding below the surface, we perform dental radiographs on our patients. Done under anesthesia, the radiographs let us take a closer look. Our own Dr. Mafara has honed his dental skills by working closely with his mentors at Arizona Veterinary Dental Specialists. He can even perform root canals if a tooth is having serious issues.
Teeth cleaning for dogs is highly recommended because, without it, serious complications can arise. According to the American Dental Society, 80 percent of dogs have oral disease by the age of three and one thing dogs are good at is hiding pain. This means if they do experience a tooth ache, for example, they don't know how to express it to us. Keeping their teeth clean is good preventative care.
We have a few tips to help with teeth cleaning for dogs in your family. If you have a puppy, it's easier to train them to get used to having a finger toothbrush or toothbrush on their teeth. If you have an adult dog, it's not too late but it will take time. Slowly introduce a finger brush or toothbrush so they can get used to the feel. Having a flavored toothpaste might help. In addition to daily brushing, there are specialty dog bones that have teeth-cleaning components.
If you have questions about teeth cleaning for dogs or want to schedule a checkup for your furry friend, give us a call. We want to help make sure Rover can chomp on his favorite bones for many years to come.